Hello beauties, I'm excited to share with you some of the most popular beauty trends on TikTok right now. Whether you're a makeup fanatic, skincare enthusiast, or just looking for some fun beauty inspiration, these TikTok trends have got you covered.
1. Face-Lifting Concealer
This one is bomb! It's all about face-lifting concealer, and let me tell you, it's a game-changer!
Gone are the days of the inverted triangle and contouring, which can be super confusing and heavy on the skin. This hack is all about simplicity and getting that lifted, youthful look without having to break the bank or spend hours in front of the mirror.
All you have to do is apply your concealer higher up on your cheekbones than you normally would and blend it out to create a seamless, natural finish. It's like an instant face-lift, without having to go under the knife!
And the best part? You don't have to be a makeup artist to pull it off. It's so easy, even a beauty newbie like me can do it. So, say goodbye to saggy cheeks and hello to a lifted, radiant complexion.
TikTok, you've done it again!
Alright, folks, let me tell you about the latest TikTok trend that's taking the skincare world by storm: skin cycling. Yes, you heard me right, cycling like the Tour de France, but for your skin.
So, apparently, this skincare routine involves dedicating each night of the week to a specific skincare product or ingredient. It's like a fancy dinner party with a different course each night, except it's for your face.
Night one is all about exfoliation, which sounds painful, but apparently, it's good for you. Night two, we bring out the big guns with retinoids. Think of it as a superhero serum that fights against aging and breakouts.
Then, we have nights three and four, which are all about letting our skin recover and hydrating like a thirsty camel. We're talking sheet masks, hydrating serums, and all the moisturizer you can handle.
And by the end of the week, your skin is supposed to be as smooth as a baby's bottom and as glowing as a pregnant woman in her third trimester. I mean, I'm all for experimenting with my skincare routine, but this seems like a lot of work.
But hey, if it means I can have the skin of a goddess, then I'm willing to give it a go. Who's with me?
Have you heard of the latest TikTok trend called "skin slugging"? Well, let me tell you, it's not as gross as it sounds. At least, that's what they say.
Apparently, it's the ultimate go-to for preventing water loss and sealing in moisture for those with drier skin types. It's like slathering your face with gooey, slimy slug mucus – I mean, petroleum-based moisturizer – to keep your skin hydrated overnight. Yum, sounds delicious, right?
So, here's how you do it. First, do your evening skincare routine as normal. Then, as the last step, apply a thin layer of your chosen petroleum-based moisturizer. Don't forget to pat it in gently, as if you're playing patty-cake with your face.
Next, go to sleep and let the magic happen. Wake up in the morning with your skin looking plumper and more hydrated than ever before. But don't forget to wipe off any excess with a cleanser in the morning, otherwise, you'll be slipping and sliding all over the place like a greased-up pig at a county fair.
Personally, I'm not really keen on this trend. I mean, call me crazy, but I don't want to feel like I'm sleeping in a vat of Vaseline. And who knows what kind of creatures might mistake my face for a giant slug and try to make a home there?
But hey, to each their own, right? If you're feeling adventurous and want to try skin slugging, just be prepared to wake up feeling like a greased-up chicken on a rotisserie. Happy slugging!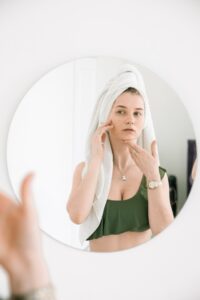 As if achieving flawless, radiant skin wasn't already hard enough, now we have to make it look like glass too? Well, Tik Tok, you've done it again.
Apparently, this trend is inspired by K-Beauty, and let's be real, those Koreans know a thing or two about perfect skin. But how do we mere mortals achieve this look without spending our life savings on skincare products?
Thankfully, brands like Peach and Lily, Glow Recipe, and Innisfree have got our backs (and our faces). They offer dewy jelly-textured moisturizers and niacinamide-infused dew drops to help us recreate the glass skin trend at home.
But hold on, let me get this straight. We're supposed to look like glass? Doesn't that mean we'll be super fragile and easily breakable? Do we have to worry about random birds flying into our faces? And what about fingerprints? Will we be constantly wiping them off our foreheads?
I don't know about you, but I think I'll stick to my regular old skin. At least it's not as high maintenance as glass skin. Plus, I don't have to worry about my face shattering into a million pieces if I accidentally bump into something.
But hey, if you're up for the challenge, go ahead and give it a try. Just don't blame me if you end up looking like a fancy vase instead of a human being.
5. Glazed Donut Nail Trend
I think I have got some egg on my face! I initially thought it was having miniature 3-D donuts on your nails! It turns out that the glazed donut nail trend is not achieved by slathering actual donuts onto your nails, but rather by using some good old fashioned nail polish magic.
To achieve this sweet-looking nail art, start with a nude base color and add a layer of pearlescent and/or shimmery gel polish to give your nails that shiny, glazed look. Trust me, you'll want to resist the temptation to lick your fingers at this point.Glazed donut nails are usually a light nude or white colour with a pearlescent or shimmery finish. However, chocolate glazed donut nails have become a popular variation of the trend, which uses a rich brown base colour instead.
Who knew that nail polish could make your fingers look good enough to eat? The glazed donut nail trend has been taking the beauty world by storm, and it's easy to see why. It's a fun and unique way to express yourself through nail art, and it's sure to make people do a double-take.
Oh, how could I forget to mention the one and only Hailey Bieber and her contribution to the glazed donut nail trend?
It all started when Hailey posted a photo on Instagram showing off her own glazed donut nails. And let me tell you, the internet went wild.
Within days, nail artists all over the world were creating their own versions of the glazed donut nail trend, and it quickly became one of the most popular nail art trends of the year.
So, if you're looking to stay on-trend and impress your friends with your nail game, you can thank Hailey Bieber for bringing the glazed donut nail trend into the spotlight.
But let's be real, with or without Hailey's stamp of approval, the glazed donut nail trend is just too deliciously ridiculous not to try. So go ahead, indulge in some sweet nail art and see how many people you can confuse with your edible-looking digits
Oh, copper hair, how you make me feel like a fiery goddess! That's right, the latest hair trend is all about embracing your inner copper queen and letting those locks shine like the sun.
But let me tell you, achieving the perfect shade of copper is no easy feat. It's a delicate balance of red and orange hues that can easily turn into a disaster if not done right. 
But when done right, copper hair can give you that perfect mix of edgy and glam. It's a bold choice that shows the world you're not afraid to take risks and stand out from the crowd.
So, whether you're a natural redhead looking to enhance your fiery locks or a blonde looking for a bold new look, the copper hair trend is definitely worth a try with likes of Kendall Jenner and SZA both showing off their fiery looks.  Just make sure to leave the dye job to the professionals unless you want to end up looking like a traffic cone.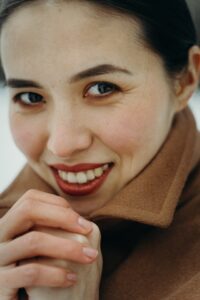 You want to know more about the "cold girl" makeup? This is something that I do almost everyday and have gotten many compliments for. Well, buckle up, my fellow makeup mavens, because I'm about to spill the tea on how to rock the "cold girl" makeup look like a boss or an ice queen.
Step one: Blush, baby, blush. And when you think you've put on enough, put on some more. We want cheeks so rosy they'll make Olaf jealous. Don't worry if you don't have the perfect cool tone pink blush, any shade will do. Just be sure to apply it to your nose, because apparently, that's what it looks like when you're freezing your butt off outside.
Step two: Shimmer like a disco ball. I'm talking silver highlights on every high point of your face. Who needs a flashlight when your face can light up the night like a Christmas tree? And don't forget to shine up that nose – it's like a beacon of light in a sea of winter darkness.
Step three: Lip color, baby. We're going for the classic "just bitten" look. Swipe on your favorite lip stain or red/berry-toned lipstick and focus the product on the center of your lips. Then, top it off with a silver shimmer gloss to tie everything together. Your lips will be so icy, Elsa will want to trade her powers for them.
And there you have it, my chilly comrades. With these tips, you'll be looking like a winter wonderland goddess in no time. So bundle up, embrace the cold, and let your inner ice queen shine.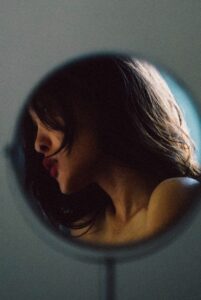 The shag cut. It's everywhere these days, and let me tell you, it's got me so impressed with its impressive over  200 million views on Tik Tok.
For those of you who are living under a rock, the shag cut is all about layers, texture, and a whole lot of sass. It's like the mullet's cool younger sister – business in the front, party in the back, and a whole lot of attitude all around.
So how do you achieve this shagalicious look, you ask? First, you need to find a hairstylist who knows their way around some layers. This ain't your grandma's blunt bob, honey. We're talking choppy layers that give you that effortless, just-rolled-out-of-bed look.
Next, you'll want to embrace the mess. Throw some texturizing spray in there and let those strands do their thing. It's like the messier you look, the cooler you are. So let those tresses fly free, my friends.
Oh, Euphoria, how I adore thee! Not only is it a binge-worthy show, but it's also a makeup lover's paradise. And boy, did season two deliver on the beauty front! Donni Davy, the show's makeup head, outdid herself with endless glitter, gems, and graphic liner. I mean, who needs a reason to wear rhinestones on your face, right?
And let's talk about those glitter tears. They're like a delicate reminder that even when we're crying our eyes out, we can still look fabulous. It's like the show's way of saying, "Hey, don't worry about your tears ruining your makeup. Just add more glitter!"
And don't even get me started on the graphic liner. The show has taken winged liner to a whole new level with its intricate and bold designs. It's like we're all artists, and our eyelids are our canvases. Picasso who?
But the real MVP of the Euphoria makeup trend has got to be the face gems. They're like a party on your face! Who needs actual party decorations when you can just stick some gems on your forehead and call it a day? And let's be real, who doesn't want to feel like a disco ball every now and then?
So, if you're looking for some beauty inspiration, just watch Euphoria. And if anyone asks why you have glitter on your face, just tell them it's a tribute to the show. They'll understand.
10. Micro French Tip Nails
Oh my, have you heard about the latest nail trend? It's called micro French tip nails and it's taking the beauty world by storm! Say goodbye to those chunky and thick French tips and hello to a more refined and dainty look.
I mean, who needs a whole lot of fuss on their nails when you can keep it simple yet classy? And the best part is, you don't even have to go to a salon to achieve it. Just grab your favorite neutral shade and a classic white or colorful polish, and you're good to go!
I'm no nail expert, but even I can do this trend justice. Just apply a thin coat of your base color, add a delicate stroke on the tip of your nails, and voila! You're ready to show off your chic and sophisticated manicure.
Pinterest may predict this to be the top nail trend of 2023, but I say why wait until then? Get ahead of the curve and start rocking your micro French tip nails today!
You are
just the way you are!.Embrace it!