Are you ready to go back in time to the era of Spice Girls and frosted tips? Well, buckle up, ladies because we're diving into the 90's makeup trend! That's right, the same trend that had us all rockin' brown lipsticks and butterfly clips is making a comeback in 2023.
But don't worry, we're not talking about the overly plucked eyebrows and blue eyeshadow disasters of the past. This time around, we're bringing back the best of the 90's makeup looks with a modern twist. From sleek black eyeliner to glossy lips, we're about to show you how to rock the 90's trend like it's 1999.
So, grab your favorite scrunchie and get ready to journey down memory lane with us. We've got all the deets on how to create the perfect 90's-inspired makeup look, complete with pictures and examples. Don't miss out on this blast from the past, because let's be real, who wouldn't want to relive the glory days of the 90's?
Make a Statement with bold lips
Who doesn't love a bold lip? In the 90s, it was all about those rich reds, earthy browns, and bold purples. And guess what? The bold lip trend is still going strong in 2023! Whether you're going for a night out or just want to spice up your daytime look, a bold lip color is the perfectway to turn heads.
But hold on, don't go overboard with the rest of your makeup. Keep it simple, girl! A bold lip speaks for itself, so let it do the talking. And let's not forget about experimenting with different finishes. Glossy? Yes, please! Matte? Give me that edgy vibe. Metallic? For sure, let's get futuristic.
Want to take your lip game to the next level? Go for an ombre lip! It's like blending two shades of lipstick to create a gorgeous gradient effect. You can go subtle or dramatic, depending on your mood and vibe. So what are you waiting for? Swipe on that bold lip and own it!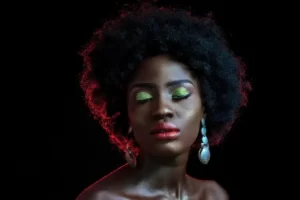 Want some sparkle in their life? Back in the 90s, the glittery eyes trend was all the rage. From shimmery eyeshadows to glitter liners, there was no shortage of glittery goodness. And guess what? The glittery eyes trend is still going strong in 2023! You can add a touch of sparkle to your day look or amp it up for a night out.
If you want to take it up a notch, try a glitter cut crease. It's like a regular cut crease but with some extra glitz and glam. It's bold, it's beautiful, and it's sure to turn heads.
And let's talk about colors, honey. You can go classic with gold or silver glitter or switch things up with a pop of pink or blue. The possibilities are endless! Just remember to keep it simple with the rest of your makeup to avoid looking like a disco ball.
So go ahead, add some sparkle to your life and let your eyes shine bright like a diamond.
Ah, the brown lip liner – a true hero of the 90s makeup bag! It's like a magic wand that can create a fuller-looking pout with just a few strokes. And guess what? The brown lip liner trend is still alive and kicking in 2023!
You can use a brown lip liner to achieve a natural-looking pout or go for a bold overlined effect. Trust us, it's not as scary as it sounds – just make sure to keep the rest of your makeup subtle to avoid looking like a cartoon character.
But if you're feeling extra daring, why not pair your brown lip liner with a bold lipstick shade? It's a perfect way to make your lips stand out in the crowd. Go ahead, experiment with different brown shades – from light beige to dark chocolate, there's a brown lip liner for every skin tone!
Hey, gorgeous! Are you ready to get sultry? The iconic 90s smokey eye is back and better than ever. With a little practice and some eyeshadow magic, you can create a bold and beautiful look that's sure to turn heads.
Start by picking your favorite color – black, brown, purple, or blue – and blend it out for a smokey effect that's perfect for a night out. If you're feeling daring, try a winged smokey eye that will make your eyes pop.
Remember, blending is key to achieving the perfect smokey eye. So, grab your brushes and get to work. With a little bit of patience and some practice, you'll be rocking the smokey eye trend like a pro.
Face gems? Yes, you heard right, face gems. Face gems were a huge trend during the decade, and they're making a comeback in 2023.
For those who don't know, face gems are small, sparkly gems that are applied to the face for a bold and glam look. They can be applied in a variety of ways, such as scattered on the cheeks or around the eyes, or in a more structured pattern.
Back in the 90s, face gems were often paired with bold makeup looks, like dark lipstick and heavy eyeliner. But in 2023, the trend is all about simplicity. Pair your face gems with a clean, fresh-faced look for a subtle pop of sparkle.
But why stop at just the face? You can also add gems to your hair or body for an all-over shimmer. And don't worry if you're not a makeup pro – there are plenty of tutorials and DIY kits available to help you achieve the perfect look.
So, let's bring on the nostalgia and embrace the 90s face gem trend once again. After all, who doesn't love a little bit of sparkle in their life?
The era of grunge, boy bands, and… super thin eyebrows. Yup, we've all seen those cringe-worthy photos of our favorite celebs with brows so thin you could barely see them. But guess what? The thin eyebrow trend is back and hotter than ever in 2023!
Now, before you go crazy with the tweezers, remember that less is more. Start by plucking any stray hairs and then use a brow pencil to fill in any gaps. And don't forget to keep them natural-looking, people!
But wait, what if you're not a fan of the thin brow? No worries, my friend. The thick eyebrow trend is also making a comeback. That's right, you can let those babies grow and still be on-trend. Just remember to keep them well-groomed and nicely shaped.
So there you have it, the ultimate eyebrow dilemma: thin or thick? The choice is yours. But no matter what you choose, make sure those brows are looking fierce!
Are you ready to add some cool and vibrant hues to your eye makeup routine? The blue eyeshadow trend from the 90s is making a bold comeback in 2023! Whether you want to go for a light and airy look or a dramatic deep blue, there's a shade of blue for every eye color and skin tone.
To start, apply a light blue shade all over your lid, then use a darker blue to create some depth in the crease. Don't forget to add some shimmer to the center of your lid for a touch of glam! If you want to try something different, swap out your regular black eyeliner for a blue one. It's a subtle yet striking way to incorporate blue into your makeup look.
So what are you waiting for? Let's get back to the blues and make a statement with our eye makeup!
Who didn't love a good frosted lip back in the day? From shimmery pinks to icy blues, there was a shade for every mood.
To rock the frosty lip trend, all you needed was a good tube of frosted lipstick or lip gloss. Swipe it on and voila! Instant coolness. Bonus points if you paired it with a choker necklace and butterfly clips in your hair.
But let's be real, not all frosty lips were created equal. Some were just a little too…frosty. We've all seen those unfortunate photos where someone went a little overboard with the frost and ended up looking like they just ate a powdered donut. Not a good look.
If you want to try the frosty lip trend today, there are a few ways to do it without going overboard. Opt for a more subtle frost or pair it with a matte lip to balance it out. And hey, if you do end up looking like you just walked out of an ice storm, at least you can say you're channeling that 90s nostalgia, right?
Well, there you have it folks! The 90's Makeup trend has finally made its comeback in 2023, and boy did it make a statement! From bold lip colors to shimmery eye shadows, the 90's-inspired makeup looks were seen everywhere from the red carpet to the streets.
But what does this trend really teach us? It teaches us to embrace our style, no matter how old or outdated it may seem. Because let's face it, fashion is cyclical, and what may seem out of style today could be the next big thing tomorrow. So why not rock that blue eye shadow or that bright purple lipstick you've been eyeing for years? Embrace your unique style, and let it shine through!
So, whether you're a die-hard 90's makeup lover or simply looking to switch up your look, remember to stay true to yourself and your own personal style. Who knows, maybe your unique twist on the 90's trend will inspire the next big thing in the beauty world. Embrace your style, and let your inner beauty shine!
You are
just the way you are!.Embrace it!